Using the HEC HMS Models  together with hydrological data (rainfall, water level) recorded by ASTI Rainfall and Water Level Monitoring Systems, the project was able to generate water level forecast for some locations along the major rivers within the project areas*.
CABADBARAN BRIDGE, CABADBARAN CITY, AGUSAN DEL NORTE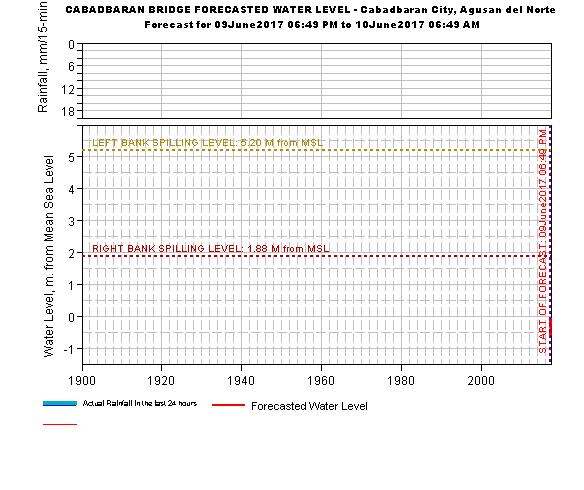 Click here for Cross-section Data at Cabadbaran Bridge
BANGONAY BRIDGE, JABONGA, AGUSAN DEL NORTE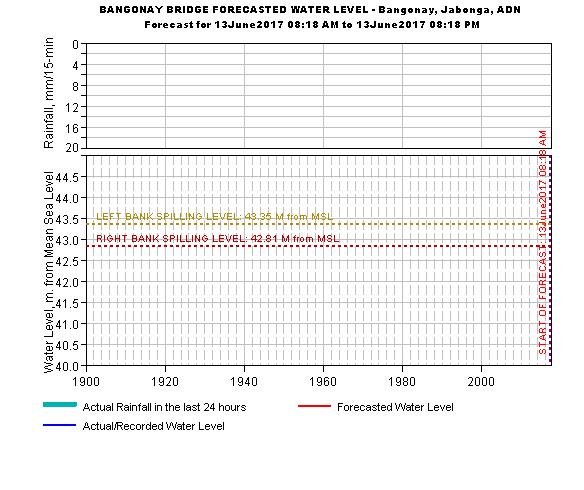 LAKE MAINIT (AT CALINAWAN BRIDGE), COLORADO, JABONGA, AGUSAN DEL NORTE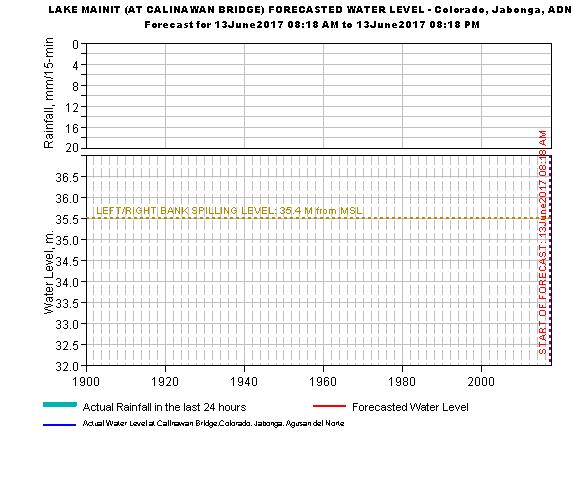 *The above water level forecasts are generated by the project using preliminary HEC HMS Models.
The forecasts are updated every 10 minutes. The forecast generation are still in experimental 
stage and subject for validation/accuracy assessment.Forecasts are results of model simulation 
of basin hydrology as well as river and flood plain hydraulics, using recorded data of rainfall
events  10 days ago to present time as primary input of the models. This means that water 
levels at specific locations along the rivers or lakes for the next 12 hours are computed using
the model to estimate the effect of rainfall events, if there are any, that have occurred 10 
days ago to present time. The effects of possible rainfall events in the next 12 hours are not simulated, 
although it is possible to incorporate rainfall forecasts into the model. Each time the model generates a 
forecast i.e., every 10 minutes), rainfall data from nearest active rainfall stations are 
utilized using an inverse-distance approach.